061175 - RAF WWII OPERATIONAL AND FLYING ACCIDENT CASUALTY FILES In The National Archives (PRE-ORDER 20% DISCOUNT)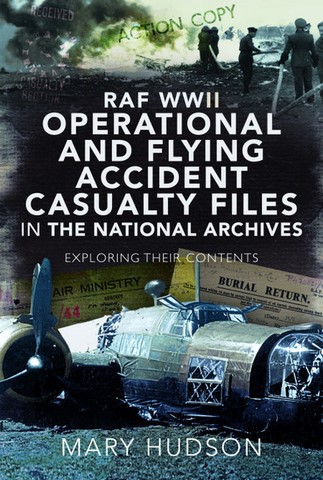 By Mary Hudson
At its height during the Second World War, the RAF totalled 185,000 personnel. Men and women, from home and overseas, served alongside members of Dominion Air Forces, and those members of the air forces of occupied Europe who had escaped to fight on. All are covered in the RAF casualty files. The heaviest losses were suffered by the aircrews; in Bomber Command alone some 75,000 were killed, wounded or captured. All information concerning casualties was carefully compiled at the Air Ministry and now, from these the official records, those covering operational losses (in the air and on the ground), and flying accidents are being made available to the public through The National Archives.
This huge collection of casualty files contains a wealth of contemporary documentation from a variety of sources including captured German records. The fascinating insight into the fate of casualties provided by the Casualty Files includes official documents, examples of which are given, accounts of searches undertaken to establish the fate of the missing, places of burial, copies of information received from the International Red Cross and from sources within enemy occupied lands, as well as letters from family and friends some of which reveal dark secrets of bigamy, adultery, illegitimacy, debt and dishonour.
In this ground-breaking book Mary Hudson has used her expert knowledge to provide an invaluable guide to the understanding of these records for use by researchers and family members alike. She takes the reader on a journey through the files, explaining when and how the RAF Casualty Branch (who opened and maintained the files) was formed, where the information held in the records originated, as well as providing an understanding of the documents themselves and explanation of matters the records refer to.
 Due 28th October 2020
| | |
| --- | --- |
| Format | Hardback |
| Pages | 328pp |
| Photos | 16 colour and 84 b/w illustrations |
| Width (mm) | 156 |
| Height (mm) | 234 |
| Dust Jacket | Yes |
| ISBN | 978-1-52678-352-3 |
| Price | £25.00 |