060132 - FLIGHT ACCIDENTS IN THE 21ST CENTURY US AIR FORCE: The Facts of 40 Non Combat Events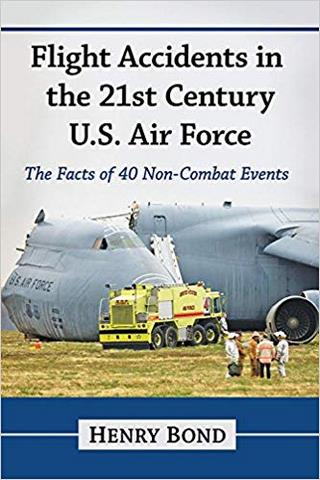 By Henry Bond
Mid-flight non-combat malfunctions, mishaps, and blunders, occur frequently in the USAF during routine training and utility flights— sometimes unfortunately with the loss of life and regularly with the destruction of a military aircraft with a value of tens-of-millions of dollars. In the most extreme case presented here a B-2 Spirit bomber crashed soon after takeoff and was destroyed with a value of $2.2 billion.
The events surrounding such accidents are meticulously gathered by USAF Investigators and a report is published in each case. Dr Bond has collected these reports over a number of years including some made available to him following Freedom of Information— (FOI) requests made directly to the relevant US Air Base. The original official accident reports are rife with military jargon and acronyms rendering them near-impenetrable to the lay-reader. Dr Bond has written up forty of the most indicative reports as a series of accessible-but-comprehensive case histories in plain non-technical language.
The causes of such blunders and mishaps are often surprising and sometimes horrifying: bird-strikes, joy-riding, unauthorized maneuvers, pilot disorientation, or more prosaically, an unseen binoculars-case blocking the action of a plane''s joystick, or unexpected moisture in an air-pressure gauge.
| | |
| --- | --- |
| Format | Softback |
| Pages | c200pp |
| Publication Date | Available |
| Pictures | 25 photos plus bibliography, index |
| Width (mm) | 150 |
| Height (mm) | 225 |
| Dust Jacket | No |
| ISBN |   |
| Price | £43.50 .... Special Offer £29.50 |