021685 - BATTLE OF BRITAIN COMBAT ARCHIVE Volume 8: 30 August - 31 August 1940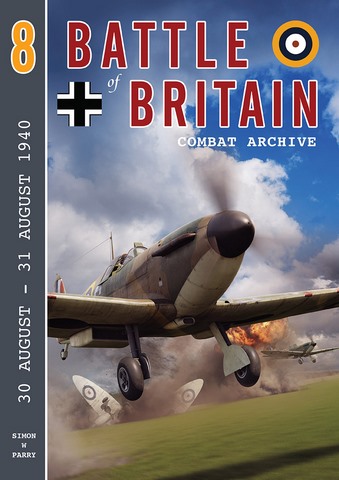 By Simon W Parry
The Battle of Britain Combat Archive Series forms the most comprehensive account ever of The Few's gallant efforts. Focusing solely on RAF Fighter Command's clashes with the Luftwaffe, the series covers every combat that took place on every day of the Battle of Britain. Using contemporary accounts such as combat reports, rarely seen squadron intelligence summaries and the newly released casualty reports, the author and his team of experts have broken down each day into its individual combats and assembled the claims, losses and first-hand accounts into a highly accessible format. These combats are illustrated with specially designed maps showing the amount of aircraft involved, the area that the engagement took place and the location of where the casualties came to earth. Each combat and casualty report is illustrated with a photo of the pilot wherever possible.
Volume Eight covers 30th - 31st August, two very hectic days as the Battle intensified and RAF Fighter Command was being brought to its knees by the continual Luftwaffe onslaught.
Volume Eight contains:
Over 100 original wartime photos
Approx 16 combat maps
2 Specially commissioned combat scenes by Piotr Forkasiewicz, one of the world's leading digital aviation artists.
128 pages.
A4 format and printed full colour throughout
Back Issues available.  15% discount on multiple purchases.
| | |
| --- | --- |
| Format | Softback |
| Pages | 128 |
| Publication Date | Available |
| Pictures | Over 100 original wartime photos, 16 combat maps, 2 specially commissioned combat scenes |
| Width (mm) | 210 |
| Height (mm) | 297 |
| Dust Jacket | No |
| ISBN | 978-1-906592-64-6 |
| Price | £25.00 |