051818 - THE LUFTWAFFE OVER BRUM: Birmingham's Blitz from a military perspective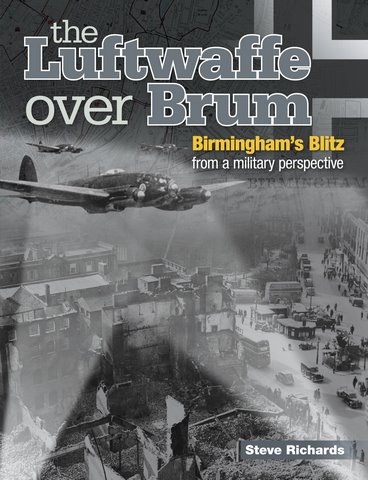 By Steve Richards
From the outset the focus has been the military aspect as it related to Birmingham's experience of the Blitz. The Luftwaffe over Brum - Birmingham's Blitz from a Military Perspective is very much a story of the German Air Force ranging virtually unopposed over the city and the gradual ascendancy of the Royal Air Force, as it strove to get to grips with the night intruders.
the Luftwaffe over BrumPart One of the book is what may be termed a microcosm, detailing the story of one German raider and its impact on civilians in a Birmingham suburb. Whilst the larger Part Two of the book is a chronological account of military operations, I have not ignored the civilian experience. The section 'The Horrors of Bombing' gives graphic accounts of what the civilians of Birmingham suffered.
Although the illustrations in this book are meant to be secondary to the text, they are many, varied and interesting. I have not been reticent to use wartime snapshots (as well as more familiar professional ones) before they become lost to posterity.
| | |
| --- | --- |
| Format | Softback |
| Pages | 144 |
| Publication Date | Available |
| Pictures | colour & b/w photos and illustrations throughout |
| Width (mm) | 215 |
| Height (mm) | 280 |
| Dust Jacket | No |
| ISBN | 978-0-9563708-3-9 |
| Price | £19.95 |