British
039535 - WARPAINT SERIES - VOL 125: BRISTOL BRITANNIA - Canadair CP-107 Argus & CC-106 Yukon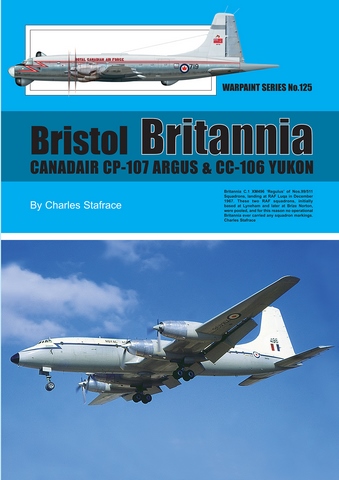 WARPAINT SERIES 125 by Charles Stafrace
The Bristol Britannia, known as the Whispering Giant because of its silent engines, was the world's first long-range turboprop-powered aircraft. It was built for the Royal Air Force as well as for civil airlines, and in time became renowned for its reliability. However, its gestation period was not easy, and its saga was one of sadness and disappointment, so that it entered service a decade after the first specification had been issued. Its period of service with BOAC and the major airlines was not long, as by then these had opted for the more glamorous jet-powered airliners. As a result, only 85 Britannias were produced by Bristol at Filton and at a second production line at Short Bros & Harland in Belfast, of which 23 went to the RAF. But thereafter the Britannia served at length with other less well known British and overseas airlines and feeder companies. It continued to fly as the RAF's main trooper as late as 1976, until its long-range role became redundant with the closing down of British Far East and Middle East bases. Early in the Britannia's development, the Royal Canadian Air Force was in search of a maritime patrol aircraft to replace the ageing Lancaster, and Canadair obtained a licence from Bristol to build the CP-107 Argus, which was basically a Britannia with a completely new fuselage to cater for the different role. Also an anti-submarine aircraft, the Argus inherited the Britannia's long range, loiter time and reliability so necessary for operating over the sea for long hours. In its early days, the Argus was the most advanced anti-submarine/patrol aircraft in the world. The Britannia's long-range characteristics attracted Canadair to start constructing the airliner under licence in Canada as the CL-44. The first examples went to the Royal Canadian Air Force as the CC-106 Yukon, which had a longer fuselage than the Britannia. For commercial use, Canadair introduced the CL-44D-4 version, which had the added feature of a folding rear fuselage to enable it to be used as a bulk carrier. The Britannia and its Canadian derivatives were not built in huge numbers - 39 Yukons and CL-44s, and 33 Argus were built in Canada. These and the 85 Britannias carried out useful work faithfully and reliably, and all over the world, the last civilian Britannia being retired in 1997. All versions of this interesting aircraft are described in this new Warpaint title written by Charles Stafrace, and illustrated by 115 photos, many of them in colour, in addition to plans and seven pages of artwork by John Fox.
Warpaint Series in general covers the following detail:-
 Complete and detailed history 
* 1:72nd scale plan 
* In detail pictures 
* Kit, decal and accessory list 
* Pages of superb colour camouflage drawings, colour, and black and white photography 
* Complete production list 
* Squadrons, units and individual aircraft serials and codes 
* Comprehensive specification 
Latest editions below – please contact us for a full up-to-date listing.
039427  De Havilland Vampire  £17.50 (Re-Release)
039448  Westland Lysander  £12.50
039455  Hawker Tempest Mks II to V1  £12.00
039472  Merlin Seafire  £12.00
039473  B-25 Mitchell  £12.50
039479  PBY Catalina  £15.00
039484  F6F Hellcat  £15.50
039489  Avro Lancaster: Tony Buttler £15.50
039490  Boeing B-17 F/Fortress: K Darling £16.00
039491  MiG 21: Alan W Hall £25.00
039492  Grumman Hu-16 Albatross: £14.50
039493  Messerschmitt Me262: K Darlin £13.00
039494  Supermarine Attacker £13.00
039495  Westland Sea King  £16.00
039496  B-24 Liberator  £25.00
039497  North American Vigilante  £15.50
039498  Avro York  £15.00
039499  McDonnell F3H Demon  £15.00
039500  Republic F-84F Thunderstreak and RF-84F Thunderflash  £17.50
039511  De Havilland DH82 Tiger Moth  £14.50
039512  Convair B-36 Peacemaker  £15.00

039513  Avro Manchester   £13.00

039514  General Dynamics F-111 Aardvark & EF-111A Raven  £19.00
039515  Sopwith Pup   £13.00
039516  Sikorsky S-55/H19 Chickasaw & Westland Whirlwind   £16.50
039517  Ilyushin Il-2 Sturmovik   £14.00
039518  Martin Mariner and Marlin   £15.50

039519  Douglas C-54/R5D Skymaster and DC-4   £19.50
039520  Westland Scout and Wasp  £15.00
039521  Vought OS2U Kingfisher  £14.50
039522  Douglas A3D Skywarrior  £19.00
039523  Panavia Tornado ADV  £16.00
039524  F-4 Phantom II   £24.00
039525  Armstrong Whitworth Albemarle   £13.00
039526  Hawker Fury and Nimrod  £16.00
039527  Douglas F4D/F-G Skyray & F5D Lancer  £14.00
039528  NAA B-45 Tornado   £15.00
039529  Grumman F9F Panther   £15.00
039530  Mikoyan-Gurevich MiG-15   £16.00  
039531  Douglas A-4 Skyhawk  £25.00  Out Now!
039532 Albatros D-I to D-III by Dave Hooper   £15.00
039533 De Havilland Canada DHC-1 Chipmunk by Adrian M Balch   £14.00
039534 Mikoyan-Gurevich MiG-17 by Nikolay Yakubovich   £16.00
039535 Bristol Britannia: CP-107 Argus & CP-106 Yukon   £16.00
| | |
| --- | --- |
| Format | softback (some stapled binding) |
| Pages |   |
| Publication Date | - |
| Pictures | colour & b/w photos |
| Width (mm) | 210 |
| Height (mm) | 300 |
| Dust Jacket | - |
| ISBN | - |
| Price | Each issue ranges from £12 to £25.00 as priced above |