024190 - FOCKE-WULF Fw 190 IN THE BATTLE FOR SICILY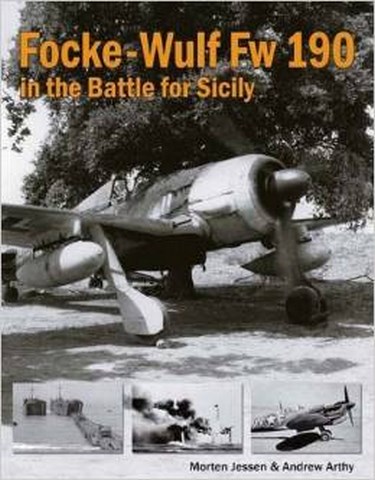 By Morten Jessen and Andrew Arthy
The Focke-Wulf Fw 190 served on all fronts during the Second World War, and one theatre in which it played a particularly important role was the Mediterranean. This book covers the service of the Fw 190-equipped fighter-bomber units based in Sicily, Sardinia and southern Italy in the summer of 1943, including their many operations against a variety of well-defended British and American targets.
The Fw 190 pilots undertook their first bombing mission from a Sicilian airfield just eight days after the Axis surrender in North Africa on 13 May 1943. In June they returned to full-scale operations, usually against Allied shipping between Sicily and North Africa, but with occasional audacious raids on Allied airfields. The invasion of Sicily on 10 July 1943 – at the time the largest amphibious operation in history – was a serious challenge for the Fw 190 units, and operations were severely hampered by the heavy bombing of Sicilian airfields in the lead-up to the invasion, and the strong Allied air cover over the landings. Even so, the Fw 190 pilots enjoyed some moments of success. In the subsequent Sicilian campaign, the Fw 190 units did their utmost to delay the steady Allied advance from the invasion beaches in the south to Messina in the north-east. Missions against harbours, warships and advancing troops were difficult and costly, but often successful.
This is the first time that the story of the Fw 190 in the battle for Sicily has been told, and the book describes not only the operations, but also the many difficulties faced and overcome by the pilots, leaders and ground personnel of the Fw 190-equipped units.
| | |
| --- | --- |
| Format | Hardback |
| Pages | 224 |
| Publication Date | - |
| Pictures | 137 b/w & 3 colour photos, profiles, maps, emblems, illustrations |
| Width (mm) | 250 |
| Height (mm) | 315 |
| Dust Jacket | Yes |
| ISBN | - |
| Price | £49.95 |