024183 - NACHTJAGD WAR DIARIES: An Operational History of the German Night Fighter Force in the West Volume One, September 1939 - March 1944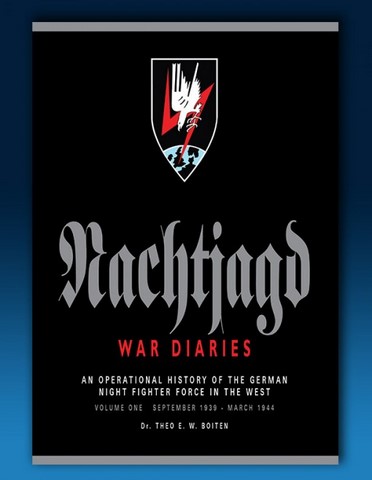 By Theo E W Boiten
The long-awaited reprints of the NachtJagd War Diaries are Wing Leader's first published titles.
The result of over twenty years of meticulous research, this two volume work casts new light on the nightime battles in the west. It has previously been assumed that no detailed history of the night battles could ever be compiled because so much information had been lost at the end of the war. However, by analysing and cross referencing hundreds of sources, mostly unpublished, and some from private collections never seen by researchers before, Dr Boiten has for the first time been able to clearly analyse each night's operations from both sides. This monumental task included taking over 6,000 night fighter claims and matching them wherever possible to RAF and USAAF losses, a task previously considered impossible in all but a few cases. Amazingly, these books can now positively identify victors and victims in over 70% of the claims.
Includes:
Nightly listing and analysis of night fighter and bomber operations.
Nightly listing of victory claims, including location, time, altitude, pilot and likely victim.
First-hand accounts from many Luftwaffe night fighter crews.
Listing of Luftwaffe night fighter pilots with one or more victories in WWII. (Volume 2)
Foreword and endorsement by Hptm. a.D. Peter Spoden, Gruppenkommandeur I./NJG6.
| | |
| --- | --- |
| Format | Softback |
| Pages | 396 |
| Publication Date | Available now! |
| Pictures |   |
| Width (mm) |   |
| Height (mm) |   |
| Dust Jacket |   |
| ISBN | - |
| Price | £40.00 |